27.01.2021
Kiedy artystka spotka artystkę o podobnej wrażliwości, pojęciu piękna i podejściu do swojej pracy, musi się to skończyć fantastyczną współpracą. Tak właśnie jest w przypadku projektantki biżuterii Kasi Wójcik oraz Dominiki Cierplikowskiej, graficzki i ilustratorki. Obie od dawna myślały o połączeniu sił z kimś równie twórczym, ale potrzebowały "dobrego ducha", który je połączy. Teraz się to udało i możemy zaprezentować Wam efekty tej współpracy. Kasia zaprojektowała kolekcję pięknej biżuterii, do której Dominika stworzyła specjalne ilustracje prezentujące różne kobiety. Powstały dzięki temu wyjątkowe obrazy łączące w sobie elementy przestrzenne (biżuterię) i rysunki, których każdy detal, każda kreska i odcień oddaje ducha tej kolekcji - inspirację kobietą i jej wewnętrzną wrażliwością, energią, drzemiącym w niej, unikatowym potencjałem.
"Projektowanie i jego efekty to coś, co wydobywam z głębi serca i twórczego instynktu. Dzięki autorskim ilustracjom Dominiki kolekcja nabrała nowego, wyjątkowego wymiaru" – mówi Kasia Wójcik.
"Moje zetknięcie z materią, jaką jest biżuteria Kasi było otworzeniem się na coś nowego. Chciałam tego od dłuższego czasu ale potrzebny był impuls. Cieszę się tą współpracą i tym, że moje rysunki są tłem dla tej kolekcji" – mówi Dominika Cierplikowska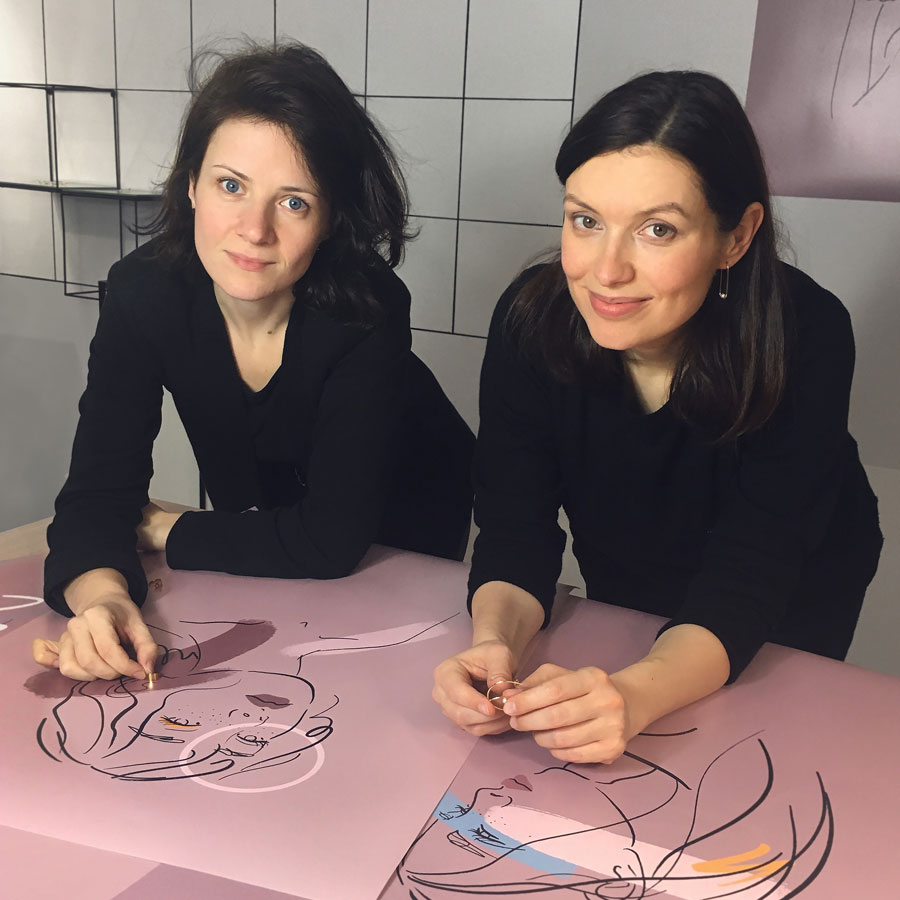 Te dwie artystki stały się dla siebie wzajemnie inspiracją i poczuły, jak wiele można stworzyć i doświadczyć łącząc siły i twórczy potencjał z drugą kobietą, otwierając się na jej pomysły i pozwalając na swobodny przepływ energii. Dlatego ta kolekcja nie mogła nazywać się inaczej - jak Muse.

ABOUT
I am a jewellery designer and goldsmith based in Warsaw, Poland.
I believe that unique, precious, designer's pieces of jewellery are the most luxurious gifts we can give. A gift for a loved one that will forever be a symbol of a our exceptional relationship, or a gift for ourselves which will inspire us everyday to create not just our style, but first of all a lifestyle that we deeply desire.

Jewellery might be the most important detail of our image, but it also is the best form to celebrate our successess.
For me, the most important thing is, how you feel while wearing it.
During the past few years, many articles about my work have appeared in the best magazines, industry and opinion media, both Polish and international - such as Vogue Italia, Glamour Deutschland, Valeur Magazine, Elle, Harper's Bazaar, Zwierciadło, InStyle, DesignAlive, Label Magazine, K MAG, Fashion Business, Newsweek, Gazeta.pl, Wirtualna Polska etc.